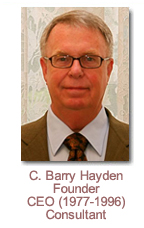 Hayden Homes, Inc., founded in 1977 by C. Barry Hayden, was a builder/developer of new home communities throughout the metropolitan St. Louis area. Today, the Hayden Homes tradition continues under the leadership of Denny Hayden. In its history, Hayden Homes has built more than 3,500 homes in 50 new home communities. The firm specialized in the move-up market and offered homes priced from the $320,000s to more than $2 million, including both single-family homes and condominium-style villas.

Today, DH Custom Homes focuses on high quality custom homes. The company also operated a custom home division, Hayden Custom Homes, which built on scattered sites within a 50-mile radius of firm's headquarters in Chesterfield. Like DH Custom Homes, Hayden Custom Homes offered a full range of design/build services as well as a "tear down/build new" program for clients who want to live in existing neighborhoods where there are no available building sites.


The Hayden Family has a proven track record spanning nearly 40 years as a residential developer and home builder in St. Louis and St. Charles Counties.

Hayden Homes was consistently ranked as one of the Top 10 Home Builders in the St. Louis metropolitan area based on dollar volume of homes sold. Customer-oriented, the Hayden Family focuses on providing superior customer service before, during and after the sale; throughout construction and after the closing of each new home built. Hayden is also custom-oriented offering all of its home buyers in every price range the opportunity to customize and personalize their new homes to better fit their individual needs, tastes and lifestyle.

Our reputation for construction quality and concern for our buyers in addition to our integrity, professionalism and the high design characteristics of DH Custom Homes constitute the cornerstones of our success.