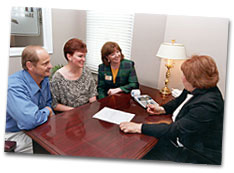 Hayden Homes is one of the most realtor-friendly homebuilders in the St. Louis metropolitan area or anywhere.

One-Price Policy

Because Hayden Homes does not negotiate on the price of our homes, you can rest assured that your clients are getting the best possible price when they buy a Hayden home. We treat all homebuyers equally and fairly, and unlike some builders, we do not offer discounts to buyers who register without a real estate agent.

2.7% Commission Rate

When you sell a Hayden home, the commission earned is based on the original contract total. To be eligible for a commission, register your clients by accompanying them on their initial visit to any Hayden community and completing a registration card for that community indicating you are their real estate agent. For more information, contact any Hayden community information center.

Hayden Homes is listed in MLS

All Hayden communities, inventory homes and available custom homes are listed in MLS. We even list the MLS numbers for our inventory homes and available custom homes in the Inventory Home section of this website.

New Home Construction Seminars

At Hayden Homes, we realize that selling new construction can be just a little intimidating. Much of the process can be unfamiliar...building materials and techniques, warranties, construction terminology, timing questions, etc. It seems like a lot to know, and for some agents this unfamiliarity creates an obstacle to potential sales.


Hayden Homes has developed a program to educate and familiarize real estate agents with the process of buying and building Hayden homes. It will relieve any construction anxiety you may have and show you how easy and fun it can be for your clients to build a new Hayden home.

At a Hayden New Home Construction Seminar, you will tour a home at the rough-in stage with a Hayden superintendent who will explain how our homes are built and show you the quality of materials and workmanship behind our walls. You'll also tour a display home to learn about trim carpentry and how we finish our homes.

Brokerage offices interested in scheduling a New Home Construction Seminar for their agents should contact Suzanne Bishop at 314-434-5840 ext. 231.

The Hayden Approach Results In Referrals

But, what really sets Hayden Homes apart from all the rest is our approach to selling and building homes.

Through listening, we help each and every buyer design and build their ideal home personalized for their lifestyle. Through our expert design and purchasing, we insure that each and every buyer gets the best home for their dollar. Through a carefully planned communication program, we help our buyers have an enjoyable experience throughout the entire process of buying and building their new homes.

Think of Hayden Homes as the architect for your clients' lifestyle. Across the board, in every community, in every price range, we customize.

For every buyer we create a customized set of blueprints of the exact home we're going to build, with all the design changes they've made to personalize their new home. We call it a Personal Design Plan and it helps us communicate with that buyer and with the subcontractors and tradespeople working on that home.

We also break the design/build process into a series of simple, easy meetings. We keep the buyer informed and involved from beginning to end.

It's all about providing service. Our buyers don't just come away with the home they want - they also come away feeling good about the process - and good about their decision to work with you.

That translates into referrals and repeat business - for us and for you.